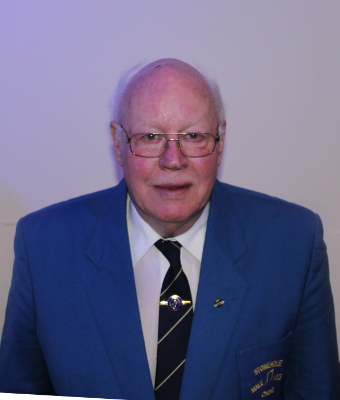 Alistair Mackie
name:

Alistair Mackie


where do you live

: in Carluke for the past 29 years


family

: 2 girls, 1 boy, and now 6 grandchildren


occupation

: formerly Bank Manager; made redundant at an early age, then Chief Exec of a local Enterprise Company


hobbies

: Chair of Carluke Community Council, golf, bowling, gardening and of course singing with the choir, the Jolly Beggars, and Lanark / Carluke Choral Union


what do you do in the choir

: Second Tenor


when did you join the choir

: 25 years ago?


why did you join this choir

: I had been singing with Kirkton Church Choir at their Christmas Concert and Duncan Munro, a Kirkton choir member, talked me into joining Stonehouse MVC


favourite choir piece ever

: You Raise Me Up


favourite other piece of music

: Guide Me O Thy Great Jehovah. This was a favourite of my father and was sung at his funeral. Similarly it was sung at my late brother's funeral and I plan it to be sung at mine!


most memorable choir story

: singing in the Glasgow Royal Concert Hall with the Russian bass Reprov. He had a three octave range and was distinctly camp. While singing he conducted the massed choir from behind his back with finger movements. I loved his leather trousers!


anything else

: I find singing very therapeutic. My brother Gordon who lives in Kilmarnock retired from work without any hobbies or interests. I spoke with the President of Kilmarnock Aeolian Choir and asked him to invite Gordon to his choir. Gordon was annoyed at this but now in his second year, he thinks he should have joined years ago! I enjoy very much the choir and of course The Jolly Beggars who last year gave 27 concerts. We have great fun under maestro George and with a group ranging from 6 to 11 we can put on quite a performance.
Alistair passed away in December 2021 and is sadly missed.